11th International Workshop on Surface Modification for Chemical and Biochemical Sensing
Łochów, Poland, 3-7 November 2023
Arranged transportation
If you would like to use bus transportation arranged by us, from the Institute in Warsaw to the hotel and back, it would be best if you land at the Warsaw airport on Friday between 11:00 till 14:00-14:30. Regarding Tuesday, the bus should arrive to the Chopin airport between 15:30-16:30.
We encourage you to fill the arrival details form once you book your flight because we are willing to be flexible and adjust transportation schedule to the need of our participants.
Buses from Warsaw to Łochów
For the convenience of participants there will be two buses to Łochów departing on Friday, November 3, from the premises of the Institute of Physical Chemistry of the Polish Academy of Sciences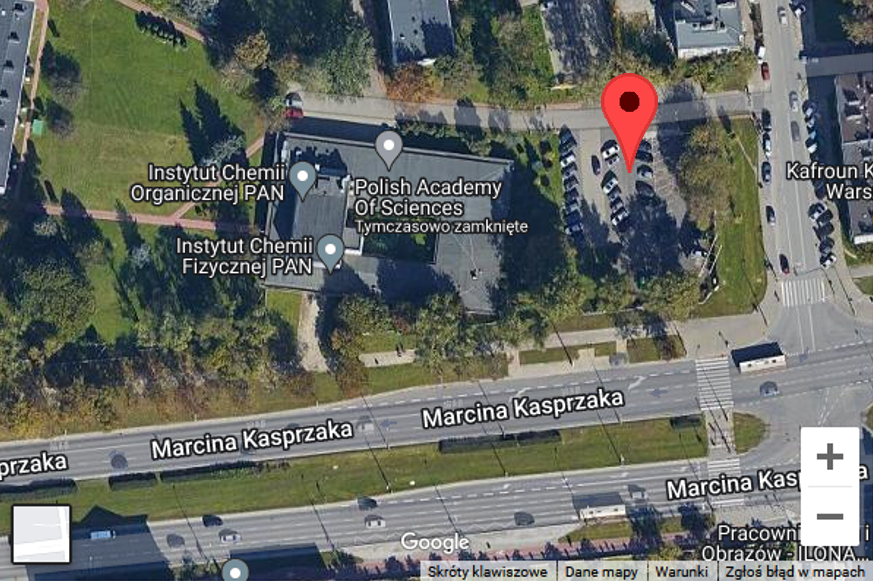 First bus will depart at 13:30.
Second bus will depart at 17:00.
Buses from Łochów to Warsaw
After the Workshop, two regular buses from Łochów to 1) Warsaw Central Railway Station, 2) IPC PAS and 3) Chopin Airport will depart on Tuesday, November 7:
First bus will depart at 12:00.
Second bus will depart at 13:30.
Warsaw - Łochów on your own
Taxi: Łochów Hotel can be reached from Warsaw by taxi (Bolt, FREENOW) but it should be arranged in advance, because the distance is 80 km. The taxi back to Warsaw can be arranged by the Hotel reception. The cost is around 200 PLN (45 EUR).
Train: There is a direct train from "Warszawa Wileńska" railway station to Łochów railway station. The station is 3 km from Venue, so it can be reached by taxi or 30 min walk. Warszawa Wileńska railway station can be reached by taxi as well, both from the Chopin airport as well as from the Central railway station. How to get to the Warszawa Zachodnia railway station by public transportation you can find out on this website: jakdojade.pl. The route works also for coming back from the Hotel to Warsaw. Train schedule is available here: rozklad-pkp.pl